The discretionary portfolio management enables delegation of portfolio management to our experienced investment managers under the asset management team. At JVSakk, we provide a full suite of private banking services catering exclusively to high net worth individuals looking to accumulate, protect and enhance their personal wealth.
We act as an independent asset manager through a tri-party agreement with prominent partnering banks. Being an independent platform, we are not constrained by limited range of products or strategies of any specific bank. With access to all products of all partnering banks, our only goal is to cater for you. Through the investment mandates, a clearly defined allocation guidelines and risk restrictions can be establish to suit your risk appetite.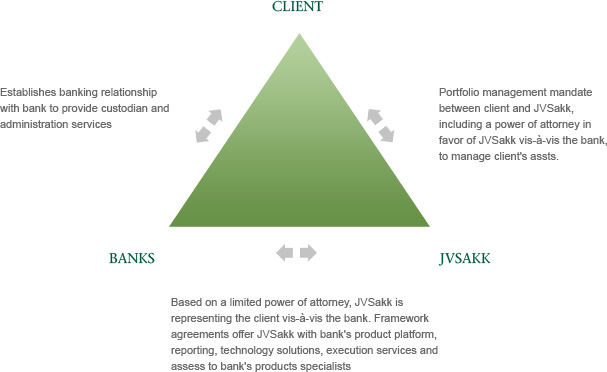 Advantages to client
Beyond a traditional benchmarking and active asset management model, which allows you to achieve risk diversification, return optimization and cost minimization at the same time.
Mitigate administrative workload in managing multi bank assets, deal with multi bankers and making ample investment decisions. To keep things simple, our investment mangers provide a centralized portfolio services to oversee and consolidate reporting all your assets from various platform.
No principle agent problem, no product driven culture, provide only convicted investment solutions. We act independently without any commission targets, we find the best deal for clients inline with everyone's best interests. By setting up a mutually agreed fee structure with clients, we credit back our client all kick backs or retrocession we get from banks, leading to a zero conflict of interests.
Services provide through our platform including:
Investment Management
Other financial services